Bruckner
Bruckner: Symphonies Nos. 6 & 9, Wagner: Siegfried Idyll & Parsifal Prelude
Gewandhausorchester Leipzig,
Andris Nelsons
Deutsche Grammophon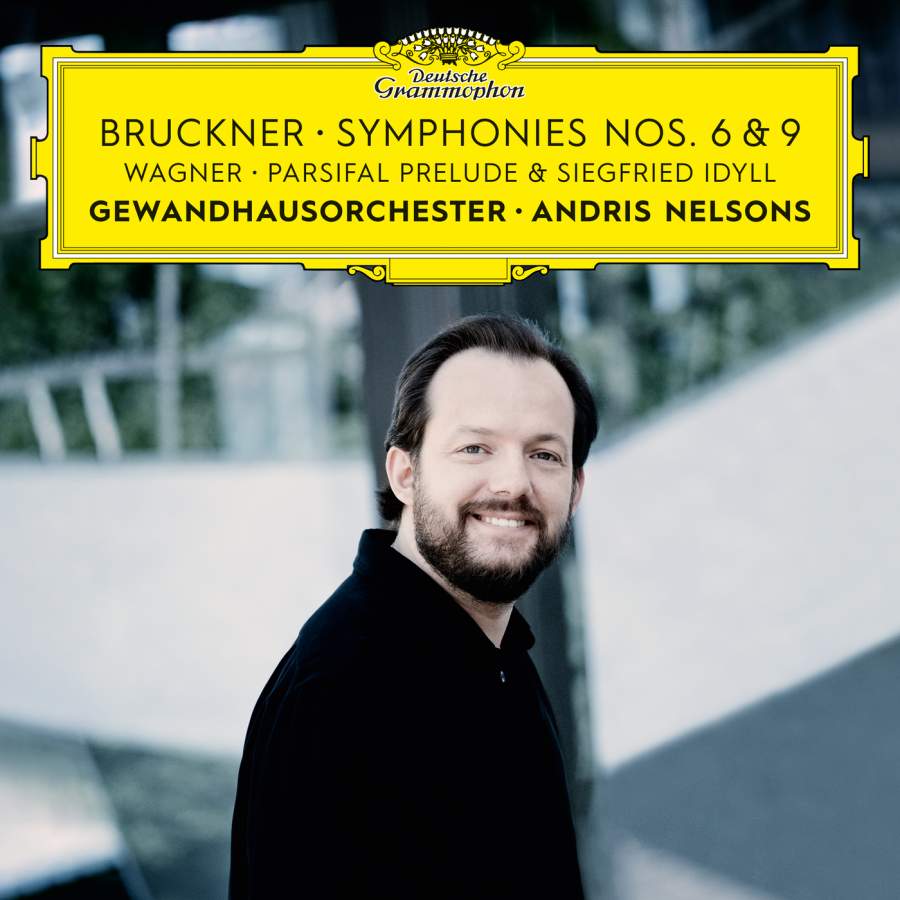 Title
Bruckner: Symphonies Nos. 6 & 9, Wagner: Siegfried Idyll & Parsifal Prelude
Artists
Gewandhausorchester Leipzig,
Andris Nelsons
Repetoire
Bruckner
Bruckner: Symphonies Nos. 6 & 9, Wagner: Siegfried Idyll & Parsifal Prelude



Label
Deutsche Grammophon
Year
2019
Catalog number
Catalogue No: 4836659
Producer / Balance Engineer
Everett Porter
Recording Engineer
Lauran Jurrius
Editor
Everett Porter
Nominations
Presto Recordings of the Year
Finalist 2019



Additional info
Multiple Grammy Winner Andris Nelsons and his "superb" (The Guardian) Leipzig orchestra continue their acclaimed couplings of Bruckner and Wagner with Symphony No. 6, which Bruckner himself described as his "boldest" and "most brazen", and Symphony No. 9, which Bruckner struggled with for a total of nine years until his death. The Symphonies are accompanied by the Wagner's Prelude to his last complete opera, Parsifal, and the lovely Siegfried Idyll.
Andris has successfully embarked on the journey exploring the sound world of Anton Bruckner's iconic symphony cycle with the much acclaimed recordings of Symphony No. 3 – released in 2017, Symphony no. 4 – released in February 2018 and Symphony No. 7 – released in April 2018.
This second ambitious long-term recording project is consciously combined with the production of DG's first complete Shostakovich cycle that Andris Nelsons is recording with the Boston Symphony Orchestra which has already been awarded with four Grammys as well as various other awards.
The wonderful wind solos intertwine with the tenderness of wounded souls, softly embedded in and embellished by radiant strings,and you wish only that they will never stop. – Leipziger Volkszeitung
De Volkskrant (NL):
New album with Gewandhausorchester makes it clear that Andris Nelsons is one of the great Bruckner performers ★★★★★
Another cycle with Anton Bruckner's symphonies, was that really necessary? With the first release from the Gewandhaus Orchestra and Andris Nelsons series – the Third Symphony, two years ago – skepticism made room for mouth-to-mouth admiration after a measure or two. We have already arrived at the fourth album; on the new double CD we hear the Sixth and the Ninth symphony.
Nelsons has a great sense of dynamism and makes the strings sound wonderfully lucid. The affinity with conductor Mariss Jansons is audible, but what Nelsons wants to see in his countryman and former mentor is that he knows how to accentuate the rhythmic figures well and let them come back – without the rhythmic emphasis destroying the sometimes ethereal and mysterious character. Nelsons 'versions have pulse and flow at the same time. It is clear that Nelsons is one of the great Bruckner performers.
And the company from Leipzig? That is one of the best orchestras. Full copper, spry wood. The players link Bruckner to his hero Richard Wagner: Siegfried-Idyll and the Prelude of Parsifal. Both get dream versions that you cannot get rid of.