Weber
Weber – Der Freischütz
LISE DAVIDSEN,
ANDREAS SCHAGER,
SOFIA FOMINA,
ALAN HELD,
MARKUS EICHE,
FRANZ-JOSEF SELIG,
FRANKFURT RADIO SYMPHONY, MDR LEIPZIG RADIO CHOIR
MAREK JANOWSKI
Pentatone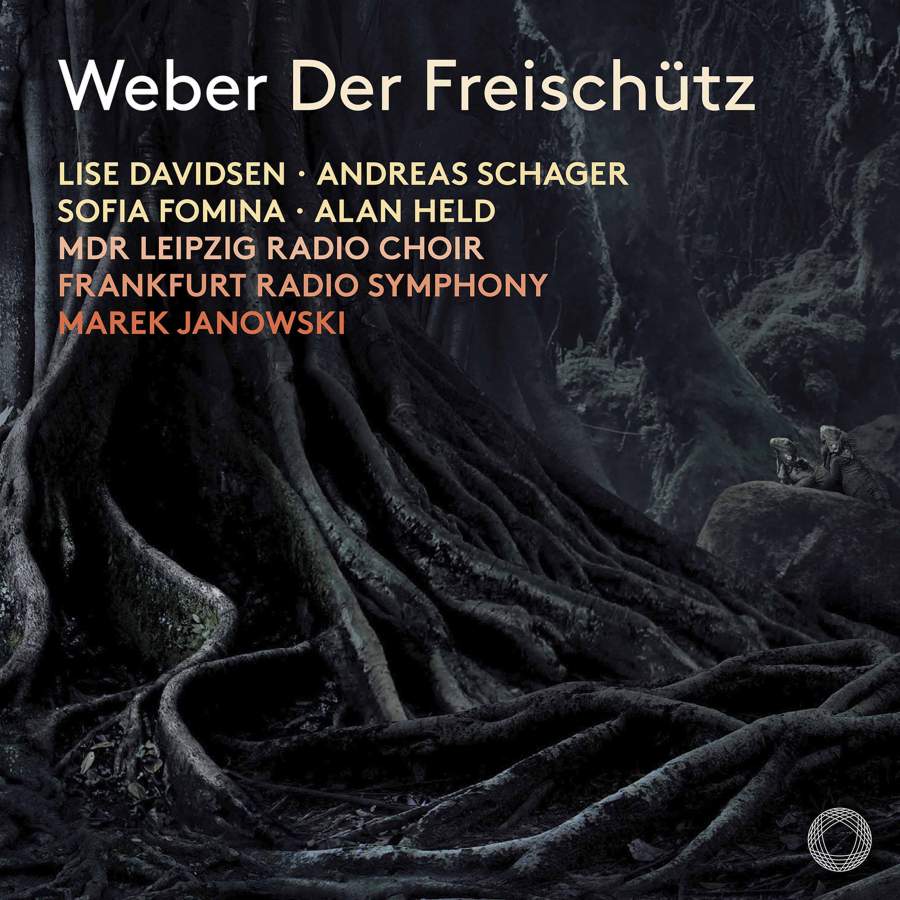 Title
Weber – Der Freischütz
Artists
LISE DAVIDSEN,
ANDREAS SCHAGER,
SOFIA FOMINA,
ALAN HELD,
MARKUS EICHE,
FRANZ-JOSEF SELIG,
FRANKFURT RADIO SYMPHONY, MDR LEIPZIG RADIO CHOIR
MAREK JANOWSKI
Repetoire
Weber
Der Freischütz



Label
Pentatone
Year
2019
Catalog number
PTC5186788
Producer / Balance Engineer
Job Maarse
Balance Engineer
Jean-Marie Geijsen
Recording Engineer
Jean-Marie Geijsen
Nominations
Disc of the Week
Record Review
26th October 2019
Disc of the Week Radio 3

Presto Recordings of the Year
Finalist 2019

Presto Editor's Choice
October 2019

Nominee - Opera
International Classical Music Awards
2019
Nominee - Opera

Presto ClassicalOctober 2019:
"With plenty of bucolic bite, Janowski's orchestra conjures a real Brothers Grimm atmosphere in Weber's dark fairy-tale. The Wagnerian voices of the two leads are flatteringly recorded: Davidsen is a womanly, three-dimensional Agathe, her big dusky soprano still flexible enough to navigate the florid passages of her first aria, whilst the heroic writing for Max holds no terrors for Schager, a veteran Siegfried."
Katherine Cooper

Sunday Times10th November 2019:
"[Davidsen] gives her finest performance to date, both arias sung with a big, radiant voice, but always lyrically...She is well matched by Sofia Fomina's perky Ännchen...Janowski conducts Weber's masterly score with atmosphere and the choir are thrilling in the Huntsmen's Chorus."

Opera Now November 2019
"Andreas Schager's Max is strong if a little wobbly these days, and Alan Held rants and raves enjoyably as Kaspar. Sofia Fomina is a bright-toned Ännchen, vivacious but not annoying. [Lise Davidsen] Her voice is caught better in this recording than in her debut Decca recital earlier this year, and instead of it sounding as though she sits on a note before adding vibrato, it sounds more 'live', as though the voice takes a moment to bloom. Add radiant tone, beautiful legato and some luminous higher notes, and it is a triumph."