Gavriil Popov / Dmitri Shostakovich
Popov Symphony No. 1
London Symphony Orchestra
Leon Botstein, conductor
Telarc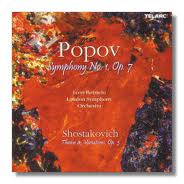 Title
Popov Symphony No. 1
Artists
London Symphony Orchestra
Leon Botstein, conductor
Repetoire
Gavriil Popov
Symphony No. 1 Op. 7
Dmitri Shostakovich
Theme and Variations

Label
Telarc
Year
2004
Catalog number
SACD-60642
Producer
James Mallinson
Balance Engineer
Everett Porter
Recording Engineer
Jean-Marie Geijsen
Editor
Everett Porter
Nominations
This album was nominated for the 2006 Grammy Award for "Best Orchestral Performance."
Additional info
Fanfare Magazine January 2005:
"Botstein and the LSO deliver a powerful reading of Popov's complex and densely turbulent work. The clarity and articulation of inner parts is little short of remarkable at times, especially in the first movement. Tempos are often uncompromising, as in the final movement, where the manic marking of prestissimo is obeyed despite a horn bobble two-thirds of the way through. I'm not surprised that Botstein was satisfied with the results, since it has more than enough character and control to compensate. The Shostakovich must have seemed like a walk in the proverbial park after the Popov, but the LSO applies all the warmth and Russian Nationalist sheen at its command. The results are a delight.
Telarc's hybrid multichannel recording is bright and clear without sounding gimmicky. Two points of especial merit on the SACD version deserve mention. First, there's the entire finale of the symphony, its snarling brass and deep strings emerging from all quarters. Second, there's the transformation of the Scriabin-inspired theme from the first movement into an enormous, emotional meltdown that seems to pull you down with it. It's a perfect work to demonstrate the value of the Super Audio CD process, and Telarc achieves this."